Diploma in Architecture, National Technical University of Athens (NTUA) 1973 - 1978
Freelance Architect 1978 - 2013
Employed under contract at Hellenic tourist Organization, Ministry of Culture, Ministry of Public Works & at the  Ionian Bank 1976 - 1988
Associate in large architecture firms 1979 - 1982
Founding member of the architecture team BAUHAOS 1984 - 1993
Private Architectural Office  1993 - 2013
Consultant in Architecture after retirement 2013 - Today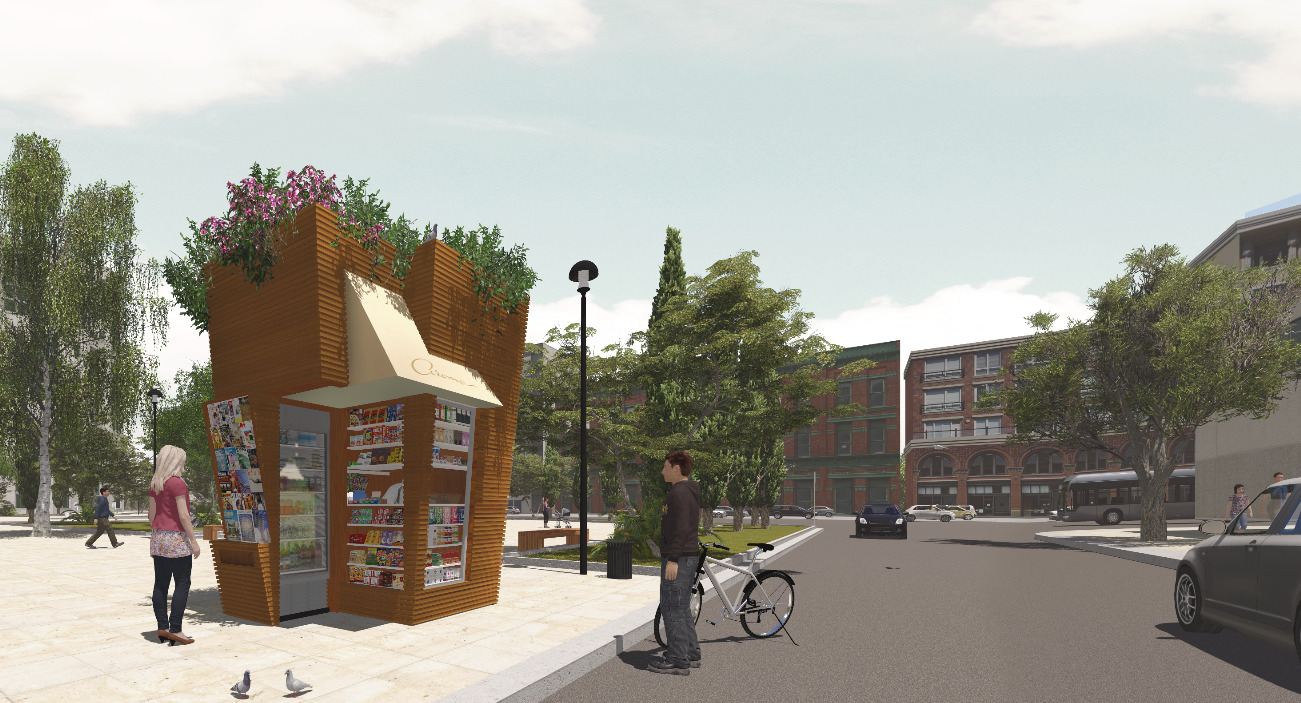 Kiosk in Athens - Competition, 2015.
Andromachi Damala was born in January 1955. Originating from Achaia and Corinth, she attended many schools in the province due to her father's profession. At the age of 15, when she came to Athens, she attended a "practical" school. In 1973 she was admitted to the School of Architecture of the NTUA, from which she graduated in 1978.
… '. My lecture was on the mapping and analysis of the settlement of Oia in Santorini from the urban scale to its micro-scale. In my dissertation I also dealt with the reuse of the barracks of Argos (Kapodistria) and the utilization of the central square of the city, including the construction of a Cultural Center. My classmate Nikos Georgiadis was a collaborator on both issues.'
She practiced the profession of architect from 1978 to 2013, as a freelancer with a personal architectural firm. She has collaborated repeatedly with other colleagues, either in various forms of collaborative groups, or occasionally by project.
At the beginning she was also involved in urban studies. From 1982 onwards she dealt exclusively with architectural projects – buildings, landscaping, interior design and design of furniture and other objects.
She was engaged in Public and Private projects, in several of which she dealt also with their construction as a supervisor. She has also participated in many architectural competitions and has been distinguished in many of them. Her works, basic studies and supervisions: building projects – special buildings and business premises, residences, restoration and reuse of preserved and landscaping have been published in many architectural magazines, have been included as capitals in architectural publications and presented in Greek and International architectural exhibitions.
She has been a member of the Jury in Greek architectural competitions and was a member of the Competition Committee of SADAS (Association of Greek Architects).
She is a member of professional organizations:
TECHNICAL CHAMBER OF GREECE – emeritus member after 2013.

ASSOCIATION OF ARCHITECTS GRADUATES HIGHER SCHOOLS.
She has retired since 2013 and she is now acting as a consultant to new architectural firms.