Diploma in Architecture, National Technical University of Athens (NTUA) 1955 - 1960
Architecture firms 1960 - 1962
Public Sector- Ministry of Public Works 1962 - 1966
Teaching Fellow, NTUA  School of Architecture 1965 - 1968
Founding member of the Architectural partnership 'Atelier 66' 1966 - 1975
Freelance Architect 1975 - 2003
Painting- Poetry 1955 - 2001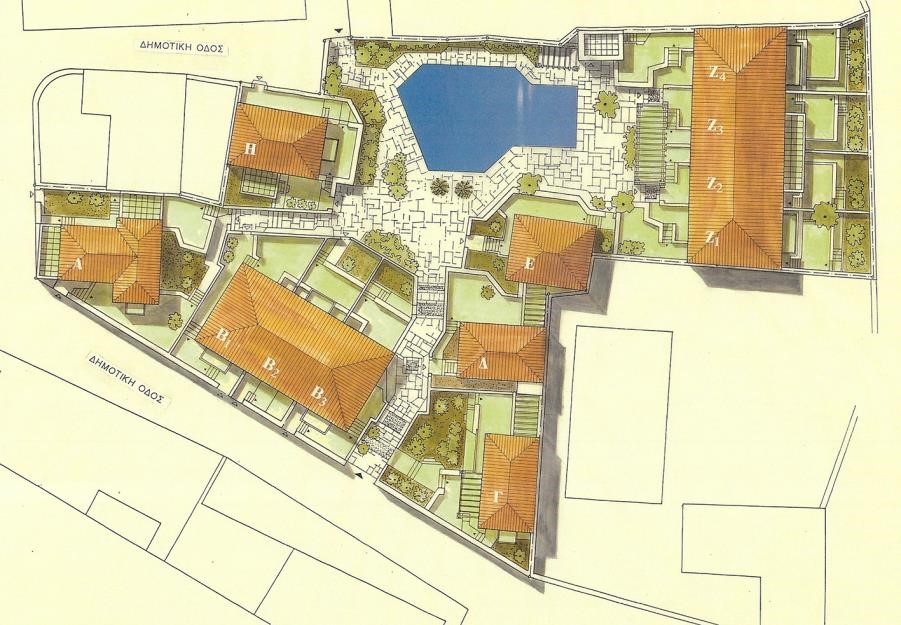 "Krinea" holiday home complex in Spetses.
Helen Gkousi – Desyllas was born in Chalkis in 1938. The family name originated from Corfu.
Ιn 1965 she obtained a diploma in Architecture from the National Technical University of Athens (NTUA) (1955-1960).
From 1960 to 1962 she worked at the office of D. Fatouros and at partnership "19/57" N. Desyllas, D. Kontargiris, A. Lambakis and P. Loukakis. From 1963 to 1966 she worked at the Ministry of Public Works where she was engaged in urban planning and traditional settlements.
She married Nikolaos Desyllas, architect, in 1964 and had four children.
From 1965 to 1968 she joined the teaching staff of the NTUA School of Architecture as assistant at the Chair of Building Science (Professor Th. Valentis).
From 1962 to 1975 she collaborated with the architects Dimitris and Souzanna Antonakakis in architectural competitions. In 1965 she was a founding member of the architectural office "Atelier '66" along with G. Aidonopoulos, D. Antonakakis, S. Antonakakis, E. Vrontisi, and D. Potiris.
Main project of this period are:
Architectural competitions: Reception Building at Thessaloniki International Fair, 2nd prize (1963), Archeological Museum at Chios, 1st prize (1965), Tourist Development of the old Fortress at Corfu, 1st prize (1967), Archeological Museum at Komotini 2nd prize (1968), Town Hall in Taurus, Athens, 2nd prize (1970).

Studies: Design of open spaces of Acronauplia (1973), Study for the evaluation and registry of the traditional settlements on Cyclades Islands (1973).
In 1996 she participated in XIX Triennale Milano, International Architecture Exhibition, where drawings and photos of the Archeological Museum of Chios were presented.
From 1975 to 2003 she worked as a freelancer, collaborating in many projects with Efi Vrontisi, architect. Projects from this period are several private houses and office buildings as well as 2 vacation house complexes, one at Rethymno, Crete and the other on the island of Spetses.
At the same time, she turned to new paths of personal expression. Through her painting and poetic pursuits she wanted to marry the two arts in her works. She liked to use color to evoke emotion in her verses and to draw abstract shapes inspired by words.
She is a member of the Greek Association of Architects and elected Vice President for one term in the '90s.