MYRTO ANTONOPOULOU - BOGDANOU
Diploma in Architecture, National Technical University of Athens (NTUA) 1951 - 1956
Doxiadis Associates 1956 - 1963
Athenian Technological Institute - Research, Teaching   1963 - 1972
Freelance Architecture - Spatial Planning  1972 - 1995
Alternative therapies, Netherlands  1995 - 1999
Consultant in Architecture - Urban Planning  1999 - 2010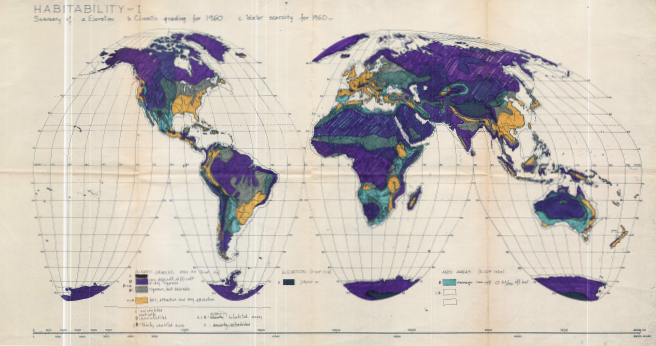 Habitality - Water adequacy in the world. (Late 60s – Athenian Technological Institute).
My name is Myrto Antonopoulou. I was born in Salonika in January 1932. My family moved to Athens in 1937 or 1938 where I lived almost all my life in the same listed family house in Komninon St. 57 and Alexandras Ave. My two sons, Stefanos and Nikos Bogdanos, still live there.
I attended "8/class" high public school for girls in Asclipiou St. and the French Academy in nearby Sina St. simultaneously graduated from both in 1950.
I continued my education at the Architectural School of the National Technical University of Athens (NTUA) from 1951-1955.
Immediately after my graduation I married Vassilis Bogdanos, also an architect, and we both signed a contract with the Iraqi Government for two years through the firm "Doxiadis Associates – Consultants on Development and Ekistics" (DA) working from the Doxiadis branch in Baghdad.
I was at first assigned to implementation plans for house types, after which I worked on town planning for small new towns (Ramadi, etc.), annual exhibitions by the Iraqi Gov'mt, a vocational school, and finally on Communities Class V and below for the new Master Plan of Baghdad, the study of which I continued at the Doxiadis Office in Athens in the Regional and Town Planning department.
I was later transferred to the Athens Center of Statistics (ACE) and took part in the research Projects "The Human Community (HUCO)", "The Capital of Greece" (COG) and finally as project manager of the research project "The City of the Future – Ecumenopolis" (COF). I also taught at the Gradual School of Statistics (GSE).
My collaboration with DA and ACE lasted till 1972, when I was formally "dismissed" for remuneration purposes, and I opened my own office at 14, Kleomenous St. as I did not wish to move far away from the neighbourhood. I worked on private projects, especially summer houses in the countryside and on interior design, as I had very little experience with large buildings. I collaborated with well-known architects (George and Vassilis Bogdanos, George Anagnostopoulos, Kosmas Xenakis and the 3D firm, etc.).
In 1982 "ALFA PI Co. Ltd – Architecture and Planning" was established by (alphabetically) Myrto Antonopoulou, Michalis Zissis, Myrto Kostica, Kosmas Xenakis (who passed away in the first year) and Pol. Koukourakis. The firm, right up to the inevitable closure in 1986 due to the death of Kosmas, worked on a hospital in Penteli and Melissia (Genral Hospital for Northern Attica), the General Town Plan for Kamatero – Zefyri) and a nursery home in Patras.
The next and last but not least long collaboration of mine was with the firm "Takis Gavrilis & Co." where I was basically responsible for town planning projects, hospital studies and related subjects (laboratories, Chronic Hemodialysis Units, Old People's Homes, and some private houses. In that office I had maybe the most personal productive and joyful period of my career.
I would happily continue to offer my professional experience for free, just for the enjoyment of communicating with colleagues, collaboration and creative thinking, now sought in other activities, such as byzantine hagiography, gardening, walks and family and friends gatherings.